FLAC To MP3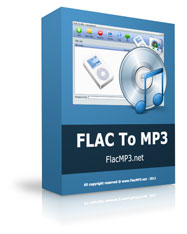 Powerful Converter

Easily
- Convert FLAC Audio To MP3 Music Just In
Only 3 Clicks
.

Fast
-
180%
faster than other audio Converter.

Input
- Support more than
20
media formats input.

Output
- Support
MP3, WMA, WAV, AC3, AMR
formats output.

Batch Mode
- Convert
HUNDREDS
of FLAC Songs to MP3 audio at One Time.
FLAC To MP3 is a windows converter application for converting Flac to MP3 audio quickly. With the converter, users can convert FLAC music to MP3 audio format in few clicks. Also, the converter supports Batch Mode to convert hundreds of FLAC audio to MP3 music at one time. During the conversion, the program could keep the original metadata and tags as well, which means users will not lose the information of a song like album, producer, actor or age etc.


File Size: 4.71MB OS: Windows ME/2000/XP/2003/Vista/7/8/10


Screenshot
Features & Benefits

Easy To Use
The usage of the program is straightforward and does not require any knowledge. Just drag your FLAC audio files onto the program and drop them, then click on Start Converting button, the conversion will be started immediately.



For Portable Devices
If you want to listen to the music on the way, you need to copy music to portable devices like iPod, iPhone or portable players. However, most of portable devices don't support FLAC format. You can use the converter to convert FLAC audio to the most popular audio format - MP3, then transfer to your devices.



Convert in Batch Mode
The converter has a file list, so that users can add hundreds of FLAC files to the converter then convert them to MP3 with only one click.



Save More Disk Space
FLAC is the free lossless audio codec and gives users the best audio quality performance. However, it needs a large disk space to be saved. Sometimes users may want to save more music on their PCs, they can use the program to convert FLAC music to MP3 files, which are compressed audio format and much smaller than FLAC files, but also keep a high audio quality.



Create FLAC
The program supports not only FLAC to MP3 converting, but also WAV to FLAC. The WAV format is a regular lossless audio format too, so you can create your own FLAC music from wave files with the program.


How To Use - Simple Tutorial

(1) Add FLAC files you want to convert



(2) Set output format, audio bit rate, rate, audio channel and output path



(3) Click the Start Converting Now button to start the task

Click Here to Learn More about Tutorial

What is FLAC?
Free Lossless Audio Codec (FLAC) is an audio compression codec, and employs a lossless data compression algorithm; a digital audio recording compressed by FLAC can be decompressed into an identical copy of the original audio data. Audio sources encoded to FLAC are typically reduced to 50-60% of their original size.
About The Converter
FLAC To MP3 Converter is intended for home users who occasionally need to convert music files to the format supported by the device they want to play them on, which can be a MP3 player, iPod, iPhone or mobile phone. The utility relies on the powerful conversion engine to process FLAC files and 20 other media file types to produce MP3 files. The application can also convert songs to other file formats such as WMA, WAV, AC3, and AMR. Regardless of the conversion format, FLAC To MP3 converts in excellent quality without losses. The program can convert a single file or several files in the batch mode. For user convenience, the program offers a wizard-style interface that guides users through the simple steps of the output setup process and enables conversion with a click of the mouse button.
Click here to read more
Why You Need FLAC to MP3?
Although the MP3 format losses a little the audio quality comparing to FLAC format, but MP3 format is the most popular music format on the internet, so you could say MP3 is the 1st common audio format in the world and it could be played on all audio devices like the car multimedia center or mobile phones. Besides, the file size of a MP3 song is much smaller than the same song in FLAC format, which means you could store more songs in a small disk space. The FLAC to MP3 software product could convert all of your FLAC songs to MP3 format, and keep the 320 KBits audio bit rate to make sure you have the best audio quality. You can click on the Download Now button above to try it now.


Awards
Key Features
Easy To Use
Fast Conversion
Convert Audio Files in Bulk
20+ Formats Input
Popular Audio Formats Output
High Quality Conversion
Articles
Partners