FLAC To MP3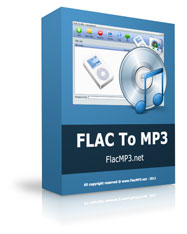 Powerful Converter

Easily
- Convert FLAC Audio To MP3 Music Just In
Only 3 Clicks
.

Fast
-
180%
faster than other audio Converter.

Input
- Support more than
20
media formats input.

Output
- Support
MP3, WMA, WAV, AC3, AMR
formats output.

Batch Mode
- Convert
HUNDREDS
of FLAC Songs to MP3 audio at One Time.
FLAC To MP3 is a windows converter application for converting Flac to MP3 audio quickly. With the converter, users can convert FLAC music to MP3 audio format in few clicks. Also, the converter supports Batch Mode to convert hundreds of FLAC audio to MP3 music at one time. During the conversion, the program could keep the original metadata and tags as well, which means users will not lose the information of a song like album, producer, actor or age etc.


File Size: 12.8 MB OS: Windows ME/2000/XP/2003/Vista/7/8/10 (32/64 bit)



Looking for a Mac Version? Please check FLAC To MP3 Mac

Screenshot
Features & Benefits

Easy To Use
The usage of the program is straightforward and does not require any knowledge. Just drag your FLAC audio files onto the program and drop them, then click on Start Converting button, the conversion will be started immediately.



For Portable Devices
If you want to listen to the music on the way, you need to copy music to portable devices like iPod, iPhone or portable players. However, most of portable devices don't support FLAC format. You can use the converter to convert FLAC audio to the most popular audio format - MP3, then transfer to your devices.



Convert in Batch Mode
The converter has a file list, so that users can add hundreds of FLAC files to the converter then convert them to MP3 with only one click.



Save More Disk Space
FLAC is the free lossless audio codec and gives users the best audio quality performance. However, it needs a large disk space to be saved. Sometimes users may want to save more music on their PCs, they can use the program to convert FLAC music to MP3 files, which are compressed audio format and much smaller than FLAC files, but also keep a high audio quality.



Create FLAC
The program supports not only FLAC to MP3 converting, but also WAV to FLAC. The WAV format is a regular lossless audio format too, so you can create your own FLAC music from wave files with the program.


How To Use - Simple Tutorial

(1) Add FLAC files you want to convert



(2) Set output format, audio bit rate, rate, audio channel and output path



(3) Click the Start Converting Now button to start the task

Click Here to Learn More about Tutorial

What is FLAC?
Free Lossless Audio Codec (FLAC) is an audio compression codec, and employs a lossless data compression algorithm; a digital audio recording compressed by FLAC can be decompressed into an identical copy of the original audio data. Audio sources encoded to FLAC are typically reduced to 50-60% of their original size.
About FLAC To MP3
FLAC To MP3 is intended for home users who occasionally need to convert music files to the format supported by the device they want to play them on, which can be a MP3 player, iPod, iPhone or mobile phone. The utility relies on the powerful conversion engine to process FLAC files and 20 other media file types to produce MP3 files. The application can also convert songs to other file formats such as WMA, WAV, AC3, and AMR. Regardless of the conversion format, FLAC To MP3 converts in excellent quality without losses. The program can convert a single file or several files in the batch mode. For user convenience, the program offers a wizard-style interface that guides users through the simple steps of the output setup process and enables conversion with a click of the mouse button.
Click here to read more
Why You Need FLAC to MP3?
Although the MP3 format losses a little the audio quality comparing to FLAC format, but MP3 format is the most popular music format on the internet, so you could say MP3 is the 1st common audio format in the world and it could be played on all audio devices like the car multimedia center or mobile phones. Besides, the file size of a MP3 song is much smaller than the same song in FLAC format, which means you could store more songs in a small disk space. The FLAC to MP3 software product could convert all of your FLAC songs to MP3 format, and keep the 320 KBits audio bit rate to make sure you have the best audio quality. You can click on the Download Now button above to try it now.


FLAC To MP3 Converter Download
So much music is now listened to though computers that it is good news to know that FLAC files can now be converted to MP3 format. All that is needed is a small piece of software and the transfer will take place in a short period of time. FLAC – standing for Free Lossless Audio Codes, is a system that can keep amazing quality despite being just 50% of the original file. Unfortunately, not all systems support FLAC and for this reason there needs to be a way to convert the racks to MP3. The problem here is that the resulting file does not always do justice to the original.


The Process of Converting FLAC To MP3
It only takes a few stages before you will be able to hear your favorite tracks. It is simply a matter of dropping the FLAC files into the program and using the "start converting" button to start things off. Within a couple of minutes, the tunes will be drifting through the air. There is no need to worry about the quality, as it will be perfect and it is not always possible to say that with other formats.


How to Convert FLAC Files to MP3
There is not a lack of options when it comes to conversion methods. There are many benefits to carrying out the conversion, and providing you choose the right converter, you will be fine.

- Usability - It should be easy and does what it says it will do without using jargon.

- Speed – You don't want to be sitting around waiting for the download to start, and then even longer for it to be complete. You can expect to have your music in minutes.

- Cost - It should always be a cost-effective system, and there should not be any cookies attached to the process.


About Downloading FLAC To MP3 Converter
Make sure that you are careful when downloading. Do not fall into the trap of allowing add-ons. It may mean you take a little longer than expected to complete the download, but at least you get just what you want. Once you download, run the file and wait for the installation process to end. After this, click on Start Converting button to trigger the conversion process. Your FLAC audio will be converted to AN MP3 tune in no time at all, and the quality will be outstanding.


FLAC To MP3 Converter Requirements
There is a slight risk that the system you use will not allow you to take advantage of the conversion tool. You will need to be using one of the following: -

- Windows – Any one of the following will be fine – 10, XP, 7, 8, 8,1 and Vista
- 64-bit windows will be acceptable


What you Can Expect from this FLAC To MP3 Converter
There are some that will be able to take audio from a CD. Changes can be made so that it is possible to convert tracks from midi wave and the like. Audio levels will not be affected, and will be normalized. As mentioned, speed is not going to be an issue and you will find that you can batch convert thousands of files in just the one session.

Awards
Key Features
Easy To Use
Fast Conversion
Convert Audio Files in Bulk
20+ Formats Input
Popular Audio Formats Output
High Quality Conversion
Articles
Partners